European and Chinese Sociologies. A New Dialogue.
L.Roulleau-Berger, Li Peilin, (eds), 2011, Brill Publishers, Leiden&Boston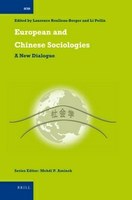 Edited by Laurence Roulleau-Berger CNRS, Ecole Normale Supérieure de Lyon and Li Peilin, Chinese Academy of Social Sciences
Sociology is subject to a process of internationalisation. The rapid development of China has provided the 'China experience' and shown the emergence of a new sociology. In this book a dialogue between European and Chinese sociologists is opening up new horizons for Western thought in a context of economic and cultural globalisation. The objective is to embark on a process of epistemological reconfiguration, deconstructing reality on the basis of dividing up the world. This book deals with some fundamental sociological issues: modernities and globalisation, class and society, state and democracy, economic change and inequalities in Europe and in China. In the wake of the de-colonial critique of post-colonial studies, the aim of this book is to examine the question of the de-westernisation of knowledge in sociology.